Age:
1961 -
Profession:
Founder of Deaf Newspaper
Birthplace:
Fort Carson, Colorado
Location:
Colorado Springs, Colorado
Ken Davis, CEO and founder of Deaf Newspaper, was born in Colorado, the child of a military family.
At the age of three, while his family was stationed in Hawaii, Ken came down with a very high fever. The fever robbed him of his hearing. Although initially devastated, his parents adjusted to it in their own ways. His mother becoming fluent in sign and his father, though never formally learning ASL, spoke to Ken in what is called home language, using signs the family unit recognizes and speaks to each other through, very common in households with hearing and non-hearing impaired members.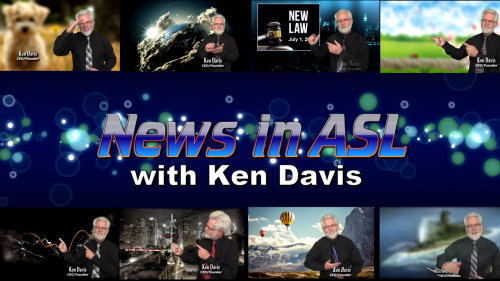 His family eventually moved back to Colorado Springs where Ken attended the Colorado School for the Deaf and Blind. After graduation, Ken decided to go to Bible College which lead him on a 14 year journey as an evangelist. After travelling the world preaching, Ken gave his resignation in 1994. He felt like he was being called in a different direction and chose a different career path.
Going back to school and getting an education in computer technology, Ken started his own business and in 2002 Deaf Newspaper Publication was launched. His goal of having a deaf owned, deaf ran business was his new calling. He envisioned having a place where he and other people in the deaf community would work together helping others lead better lives by providing information specialized for them. He provides others with information about things such as foreign scams and fake businesses that would like to separate the vulnerable from their money.
He says he has the "partnership approach" to his organization. His attitude "they are all working together as a community" to take care of each other seems to be working. His website has exploded and has had growing feedback since its inception which obviously makes Ken very happy.
"It is important to work together, to come together with no subdivision (hearing and non hearing communities) supporting each other," Ken believes.
Ken is very passionate in his desire to be a conduit of information and social networking for the hearing impaired. His journey of helping, whether in a spiritual sense or intellectually, has been a journey of success